Recently I completed the Grow with Google challenge, which was the road to obtaining the full 6 month challenge to the followup course at Udacity. That course was for the Android Basics Nanodegree by Google program. As last I wrote, I was just patiently waiting around to see if I would make it into the next round. To my surprise and gratefulness, I had been accepte to the full program. And as of a couple days ago, I completed the Nanodegre!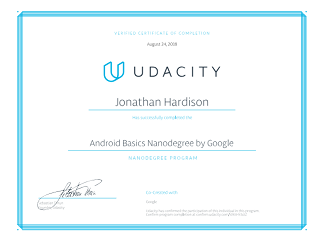 The course, while for the basics program (aka beginner), was definitely a tough program and chocked full of content. It included everything from the simple designs and work that the challege put us through, all the way up to database use and consuming RESTful API's. This, without a doubt, was an awesome ride and I highly recommend it to anyone looking to light that spark and learn.
I've put up a new repo of my projects, both educational and tinker/side project "always be coding" kind of stuff. Check it out anytiem.
UDacity Referral
If you are interested in joining UDacity's programs, take advantage of this link. This is for US based accounts only. Use of this link will give you and myself a $50 credit towards tuition.
---
---